FCARD3500T upgrade notification
2019-01-15 16:10
According to the needs of the market and customers, our company is upgrading, updating and optimizing the FCARD3500T one-card management system. The details are as follows:
Software update of FCARD3500T one-card management system: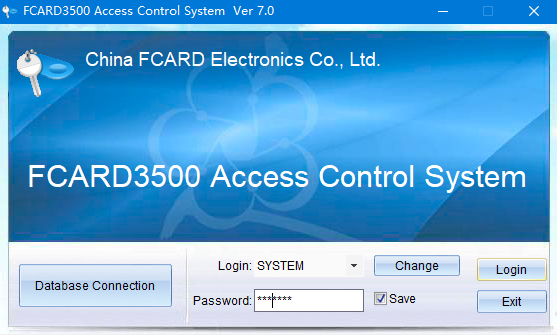 1, Add the new visual face management module, support dynamic face access control device.
2, New personnel information and face data, can meet the requirements of dynamic face devices that have been added or will be added in the future.
3, Support USB driver free camera, HD 1080p, 720p, 480p, for the face capture.
4, Five new types of face recognition access controller devices are added. Personnel can be authorized as long as they input photos and uploaded to the face devices to realize face recognition.
5, New types of FC-89H and MC-59T series access control boards are stable and efficient.
6, Add the function of regional fire alarm, realize multi-boards linkage alarm, and automatically link all or designated doors work together.
7, MC-5926T tamper alarm realizes the automatic alarm after the turnstile open.
8, Improve regional interlocking and intelligent linkage to accurately realize multi-doors interlocking without computer starting up.
9, Add online firmware upgrade of access control board, realize online upgrade of access control products, and support new functions in real time (currently support the two series of FC-89H and MC-59T support).
10, Improved LCD screen display function and tedious operations, beautified LCD screen interface, and supported 4K TV screen.
11, Solve the problem that the LCD drag screen cannot be effectively aligned, and realize the one-button screen display function. Click the screen to achieve perfect display.
12, Add a new series of LED driver cards to realize the wiring and function setting in a simple and flexible way. (while retaining the original driver cards).
13, Improve the LED screen setting interface, add the guidance setting mode, and realize the installation guidance and management without professional staff.
14, Six commonly used templates are added to the LED screen. Customers can choose templates according to their own conditions to simplify the operation and reduce the steps of setting.
15, Add the authority group management function to realize the allocation authority by group.
16, Optimize ACCESS database, database abnormal automatic check and repair function.
17, Optimize the encryption function of controlling card, and realize the use of cards such as access control, time attendance, consumption, water control and electronic control, etc., which can realize unified encryption, unified password, unified management.
18, Add the anti-dismantling check alarm function.
19, Whether to remove the existing alarm function by adding a legal card.
20, Optimize the super password function, to achieve the password validity, valid times function.
21, Optimize regional anti-passback, and realize anti-passback of multiple boards without computer starting up.
22, Adjust the anti-detection lock function, which is turned off by default and turned on when anti-detection function is needed.
23, Handle the problem of wrong authorization of offline elevator control and authorization cards.
24, Add the DIY function of elevator access control and intercom linkage, realized the linkage agreement of intercom editing by customers, and add the unknown intercom model.
25, Handle 16 one-card system errors.
26,Traditional Chinese version, simplified Chinese version and English version are upgraded simultaneously.
Hardware updates:

1, Automatic notification function for card reading: this function is a new function supported by FC-89H series and MC-59 series. It is used to directly notify the third-party hardware when reading the illegal cards (such as the camera after reading cards).
2, Personnel data optimization: FC-89H series and MC-59 series will perfectly support 1-18 card numbers, such as identification card number and mobile phone number as access card numbers.
3, Dynamic QR code function: FC-89H series and MC-59 series add the dynamic QR code algorithm to achieve automatic conversion of QR code encryption, which will be convenient for visitors and other personnel to use.
5, MC-5826 series access control board: it supports LCD color screen card reader, and can realize the advertising rotation, IC card and ID card.
6, Upgrade FC-863MS and FC-865MS QR code card reader, support dynamic and static QR code double protocol output, and support various Wiegand format controllers. (Dynamic QR code currently only supports FC-89H and MC-59 series)
7, Upgrade the self-programming function of FC-ED86 elevator linkage board.
Hardware models and pictures

1. FC-89H series access control boards

2. MC-59 series access control boards

3. MC-5926 series turnstile control boards

4.FC-LJ01A cylindrical face recognition access controller

5. FC-SY01A tablet face recognition access controller

6. HM-3200 flat face recognition access controller

7. HM-3300 face and identification card verification access controller

8. HM-3500 cylinder face recognition access controller
One of the dynamic face recognition access controller